The Role of Trade Policy and Energy Efficiency Policy to Promote Highly Efficient Air Conditioner Markets
Download Report
Fill out the form below to activate file downloads
You can now download the files related to this report above.
Trade policy and energy efficiency policy often influence each other. Energy efficiency policies such as minimum energy performance standards and energy labeling affect which products can be sold on the market, and thus can restrict trade in inefficient products. Trade-minded energy efficiency policy can enhance energy efficient markets by determining the availability and relative prices of highly efficient imported products. Despite the interactions between these two policy areas, policymakers rarely design trade policies such as tariffs and local content requirements with energy efficiency in mind.
This report discusses how trade and energy efficiency policy can work together to reduce the dumping of inefficient products in developing and emerging economies and to promote market transformation to highly efficient ACs. The report presents several case studies assessing the impacts of trade measures that have enhanced or restricted the availability of energy efficient products in various countries.
Case studies on non-tariff trade measures affecting energy efficiency include:
Ghanaian Standards and Ban on Incandescent Lights and Used Appliances
ASEAN Standards Harmonization and Free Trade Area
Pre-Verification of Conformity in Kenya and Haiti
Safety Standards as a Trade Measure Restricting the Availability of Efficient ACs
Case studies on tax and policies affecting energy efficiency include:
CARICOM Tariff and Tax Exemptions for Energy Efficient Products
Tariff Exemptions for Energy Star Products in the Turks and Caicos Islands and the Marshall Islands
Tariffs Impeding Sale of Energy Efficient Products in Central America
Brazil's Manaus Free Zone
The Role of Trade Policy and Energy Efficiency Policy to Promote Highly Efficient Air Conditioner Markets provides recommendations on the steps policymakers can take to ensure that trade and energy efficiency policies are complementary and effective.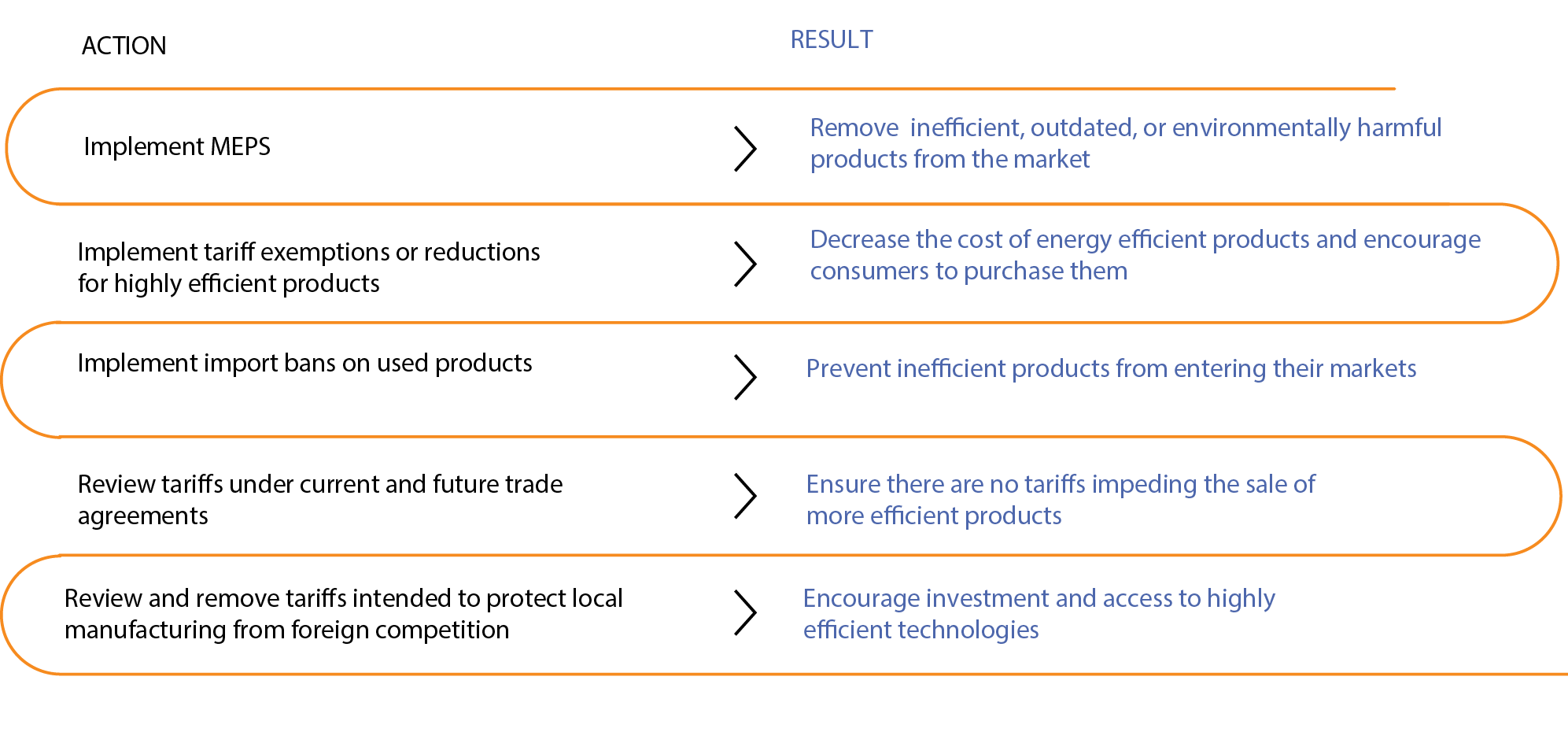 CLASP conducted this research with support from the Institute for Governance & Sustainable Development (IGSD).
---