Developing Test Methods for Solar Water Pumps
CLASP's decision to develop a comprehensive test method for solar water pumps was informed by a mounting recognition of the technology's impact potential and demand potential.
The Global LEAP Awards test method for solar water pumps assesses product performance and quality. This story gives insights into how the CLASP team and our partners developed the test method.
Modern irrigation technologies have the potential to improve lives and livelihoods for nearly 500 million smallholder farmers worldwide who lack access to energy. In particular, solar water pumps reduce labor burden and boost productivity, crop yields, and incomes. However, the market for solar water pumps today remains nascent and fragmented.
CLASP's decision to develop a comprehensive test method for solar water pumps was informed by a mounting recognition of the technology's impact potential and demand potential. In a survey of 135 industry, policy, and development stakeholders CLASP conducted in 2018, solar water pumps ranked the highest in terms of both perceived consumer demand and potential impact among productive use appliances.
Convening Stakeholders
In the months following the survey, the CLASP team conducted extensive desk research and consulted dozens of other stakeholders to better understand the intricacies of solar water pump design and performance. As part of this process, the team convened a Solar Water Pump Technical Working Group (TWG) composed of over 40 industry leaders, product designers and distributors, technology specialists, and agriculture sector experts. From May 2018 to May 2019, the TWG participated in a number of roundtable meetings, focus groups, and one-on-one calls to provide feedback on potential SWP test procedures and common use cases. These consultations with solar water pump TWG members revealed that there was a major gap in the industry's understanding of how to evaluate pump performance.
Although solar water pumps were clearly a priority product among donors, investors, and the broader energy access sector, one important question remained unanswered: How do we evaluate the quality and performance of the solar water pumps available on the market?
Developing the Test Method
Simultaneously, the CLASP team created a Global LEAP Awards competition for best-in-class solar water pumps, an international competition to identify and promote the world's best off-grid appliances. For each technology evaluated as part of the Awards, rigorous test method and evaluation criteria are required to support the quantitative and qualitative analysis of product efficiency, affordability, and quality.
The resultant SWP test method is a comprehensive third-party assessment of solar water pump quality and performance in the world. It builds upon performance measurement defined in the existing international test method for SWPs, IEC 62253: photovoltaic pumping systems, and expands the method to include functionality and quality assessment, such as mechanical durability and dry run protection.
Identifying the right testing facility presented a unique challenge for CLASP. The team, led by CLASP Senior Associate, Elisa Lai and Program Consultant, Michael Spiak, received bids from facilities around the world, but very few labs have the right mix of accreditation, capability, and understanding of the off-grid solar products and markets. CLASP chose to partner with the Schatz Energy Research Center at Humboldt State University based on their knowledge of off-grid market dynamics as well their comprehensive experience testing solar home systems.
"We decided to work with the Schatz Center because they have a robust understanding of how solar products work and are aware of the unique needs of off-grid consumers," explained Lai, who has led test method development on several Global LEAP Awards competitions, including the off-grid refrigerator competition. "We thought it was important to help the sector at large build the technical capacity to test solar water pumps, so choosing the right partner to take on this project was really important."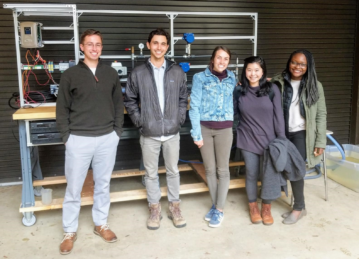 The CLASP team visiting the Schatz Center SWP testing facility in Arcata, California.

Addressing the Challenges
One notable testing challenge is that solar water pumps are highly customizable. When purchasing a solar water pump system, there are a number of variables that must be taken into consideration, including the volume water you would like to move, the type of potential water sources, and how far the water must be transported, both horizontally and vertically. Solar water pumps do not follow a "one-size-fits-all" model, and the associated test methods must be as nuanced as the products themselves.
There are a number of unique performance characteristics that differentiate solar water pumps from the other off-grid appliances. Most appliances operate through a connection or "plug" into an energy source, and they often rely on energy reserves, batteries, or insulation (in the case of refrigerators) to operate in times with limited to no solar radiation. Most pumps, however, run directly off the solar power going into the panel, meaning weather and solar radiation patterns greatly influence how much water is being pumped at any given time. To test this variation, the team designed three solar day scenarios to capture the pumps' performance with varying levels of solar input over time. This marked the first time that the LEAP team tested product performance through simulated solar days.
"For each solar water pump, the test method takes, on average, one to three days to complete and evaluates the technical performance – specifically their ability to efficiently convert electrical energy into hydraulic energy over the course of a solar day," explained Spiak. "Other critical considerations are price, including retail price and standardized price of the recommended PV systems by size, quality, usability and innovation, warranty maintenance and replace-ability."
Unlike off-grid refrigerators, TVs, and fans, which are primarily indoor appliances, solar water pumps must be built to withstand the elements. Pumps sit out in the sun or deep underground, moving dirt particles and water across long distances. Further, performing routine maintenance on the pumps can be extremely challenging, especially if they must be unearthed from up to 80 meters below ground. For these reasons, durability is an incredibly important, albeit difficult aspect of solar water pump performance to test and verify.
To test solar water pump durability in the lab, the team performed a suite of mechanical and visual checks, from pushing buttons and switches on and off a thousand times to inspecting wires to see if the products were at risk of short circuiting. "We are still in the early stages of figuring out what durability and reliability mean for solar water pumps," says Lai. "There are light touch durability tests that can be done in the lab, but there are more robust, longer term methods that ideally would be carried out in a field test setting."
30 products from 16 different companies recently underwent testing in the Schatz Center lab in Arcata, California, and the results are now being evaluated by a team of expert judges. The Global LEAP Awards team will announce the 2019 Solar Water Pump Competition Winners and Finalists on September 25, 2019. After the Winners and Finalists are announced, the findings from the solar water pump testing process will be cataloged in the online information sharing platform, Equip Data.
For more information on the Global LEAP Awards Solar Water Pump Competition, please visit https://globalleapawards.org/solar-water-pumps.
---