EU Leads in Phasing-Out Halogen Lamps, Promoting Cost Effective LED Alternatives
Europe took another step forward in embracing energy efficient lighting when the EU banned the sale of non-directional halogen lamps on September 1, 2018. This policy measure will facilitate consumers gradually replacing their old, inefficient halogen lamps with new LED lamps, rendering halogen lamps obsolete.
Phasing-out halogen lamps is one of the most critical steps in shifting lighting markets from old, inefficient technologies to new ones that use 80-90% less energy. Operating LED lamps costs a tiny fraction of halogens, and long lifetimes add up to big savings for consumers and businesses over time.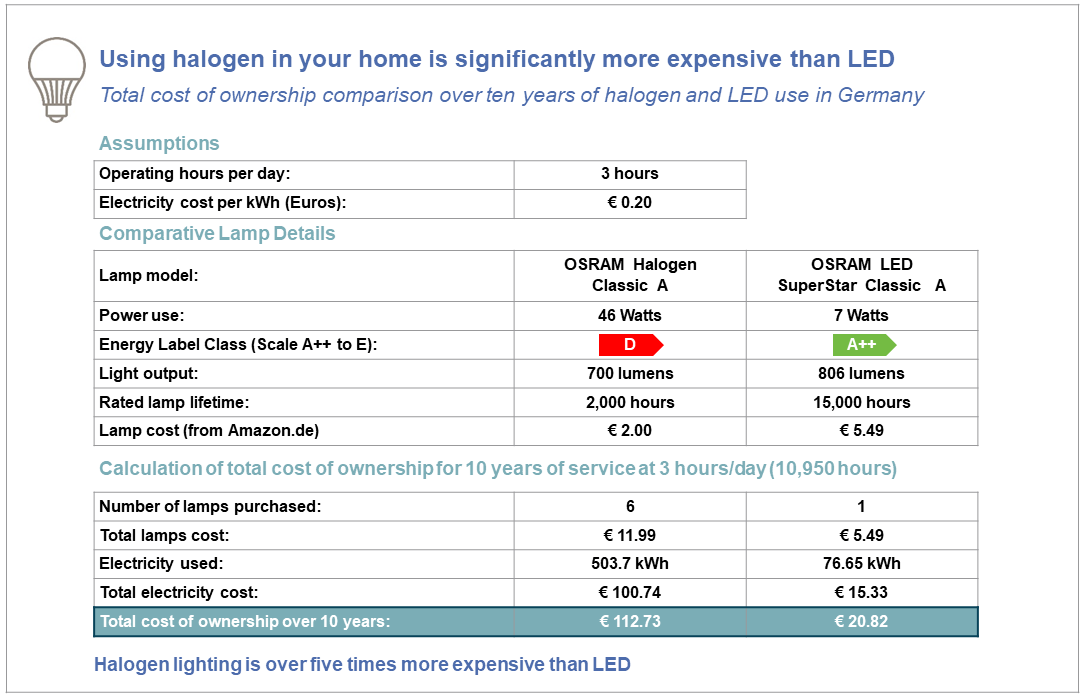 In a side-by-side comparison in Germany, the largest economy in Europe, halogen lighting costs more than five times as much as LED lighting. The table illustrates the cost difference between a halogen lamp and an equivalent LED lamp, with the running costs based on 3 hours per day and electricity costs of €0.20 per kWh.
In addition to generating cost-savings for consumers, switching to quality energy efficient lighting products has marked environmental benefits. According to the European Commission, phasing out non-directional halogen lightbulbs in the EU will save a cumulative 48.1 TWh of electricity by 2025, equivalent to 17 Mt of CO2 savings.
The EU's recent policy measure phasing-out non-directional halogen lamps follows similar phase-outs of incandescent lamps starting in 2009 and directional (i.e., spotlight) halogen lamps in 2016. The non-directional halogen phase-out was originally scheduled for 2016, but was delayed to 2018, while industry sought a potential four-year delay to 2020. The work of several EU member states and organizations like CLASP helped to keep the delay to only two years. Despite delays in implementing the halogen ban, the EU continues to lead the world in transforming its lighting market towards more energy efficient technologies and systems.
CLASP has been actively involved in supporting energy efficient lighting policies through the EU regulatory process since we began working in Europe in 2009. CLASP consulted with EU member states on the September 2016 phase-out of halogen spotlights, and collaborated with key stakeholders to propel this latest policy measure forward. As an active participant in the Ecodesign consultation forum, CLASP contributes comments on policy drafts and makes technical contributions, providing studies and analysis to support the policy process. In the coming years, CLASP will continue to support the lighting policy development in the EU, as LED lighting technology continues advancing efficiency and affordability.
CLASP's work on the 2018 phase-out was funded by the European Climate Foundation (ECF) and the ClimateWorks Foundation. Our partners included European Environmental Citizens Organisation for Standardisation (ECOS), European Environmental Bureau (EEB), Topten, and European Council for an Energy Efficient Economy (eceee).
Globally, lighting accounts for 15% of total electricity consumption and 5% of total greenhouse gas emissions. CLASP estimates that accelerating the global transition to highly efficient LEDs would save 660 TWh of electricity in 2030 – about the same electricity consumption as the entire continent of Africa. These global savings would result in avoiding nearly half a gigatonne of annual CO2 emissions by 2030. CLASP is expanding our work around the world to accelerate market transitions toward energy efficient, high quality LED lighting.
Learn more about our lighting work and visit CLASP.ngo/impact/lighting.
---