Introduction
The UK aid funded Low Energy Inclusive Appliances Programme (LEIA) aims to accelerate the availability, affordability, efficiency, and performance of a range of appliances particularly suited to off- and weak-grid market segments in developing countries. Electric pressure cookers technology is a new focus of this effort.
The LEIA Programme will be delivered through an international Efficiency for Access Coalition convened by UK aid and Power Africa, involving a range of co-funders including Lighting Global, Rockefeller Foundation, Shell Foundation, Sida, EnDev, Good Energies Foundation, and more. The Efficiency for Access Coalition is coordinated by CLASP, the leading international voice and resource for appliance energy efficiency policies and market acceleration initiatives, working alongside the UK's Energy Saving Trust, which specializes in energy efficiency product verification, data and insight, advice, and research.
CLASP is working closely with the Modern Energy Cooking Solutions (MECS) program to accelerate the market for electric cooking in off and weak grid markets globally through electric pressure cookers. MECS is a £40M UK DFID-funded program aimed at accelerating the development and uptake of LPG and electric cooking technology in markets currently dominated by biomass cooking.
To support the MECS and LEIA Programmes' interest, CLASP is soliciting cost estimates from qualified test laboratories for testing and evaluating electric pressure cooker performance, quality, durability, and safety.
Information on the background, test parameters and methods, submittals, and timeline for RFP submission is provided below.
Background
Electric cooking (e-cooking) technology offers an alternative to improved biomass cookstoves while presenting a long-term solution to environmental degradation and a viable path towards total eradication of indoor air pollution. Electric pressure cookers (EPCs), in particular, use a fraction of the energy required to power other types of e-cooking products to quickly and conveniently cook dishes traditionally consumed in off-grid communities that often require long simmering time. However, very few AC and DC EPCs are available in off- and weak-grid markets, partly due to a lack of consistent and comparable performance data that helps market stakeholders make effective and informed decisions. Robust laboratory testing addresses this by ensuring products meet the performance, energy efficiency, and quality claims of manufacturers.
To this end, CLASP is soliciting proposals from qualified test laboratories for supporting CLASP in the development of an EPC test method, and subsequently testing and evaluating products. The test method will seek to evaluate EPCs based on service delivery, energy performance, quality, durability, and safety. A preliminary draft of the test method has been developed by the MECS and LEIA programmes, a summary for which can be found in the tables included in the "Submittal" section below.
The test procedure will heavily leverage existing internationally-accepted test methods related to EPCs, including:
BS EN 12778:2002 // British Standard: Cookware – Pressure cookers for domestic use
IEC 60335-2-15 // Household and similar electrical appliances – Safety – Part 2-15: Particular requirements for appliances for heating liquids
IEC 61817 (1:2004) // Household portable appliances for cooking, grilling and similar use – Methods for measuring performance
Water Boiling Test v. 4.2.3 (March 2014, Clean Cooking Alliance)
Cookstove Durability Protocol (March 2014, Clean Cooking Alliance)
Biomass Stove Safety Protocol Guidelines (Clean Cooking Alliance)
Given that the cost of laboratory testing is often a barrier for weak- and off-grid stakeholders, a cost-sensitive approach to testing will be strongly considered. In addition, we request that proposals include detailed quotes, with line item cost breakdowns for each referenced test. This requirement is also further explained in the "Submittal" section below.
Scope of Work
As directed by CLASP, the test laboratory or team contracted for this work will be responsible for the following:
Task 1. Test Method Consultation and Development
Collaborate with CLASP to develop a test method (based on the current draft) that enables evaluation and comparison of relevant EPC metrics. A preliminary list of these metrics are described in Annex 2: Draft Electric Pressure Cooker Test Method, Conditions, and Parameters/Metrics.

Note that the current list of relevant EPC metrics is not final and CLASP seeks input and consultation from applicant.

Develop a standard test report template to document product testing results in collaboration with CLASP.
Conduct beta testing (on 2 products) based on the draft test method and use the beta testing process and results to improve, revise, and finalize test method.
Task 2. Product Intake, Preparation, and Testing
Coordinate with CLASP on the product shipping process, including providing any necessary assistance related to shipping, custom clearance, notifying CLASP of receipt of product(s), verifying model numbers of received product sample(s), packaging and reshipping after testing if necessary.
Inspect the product sample(s) received and identify and record any external damage.
Perform preliminary safety testing and evaluation to screen and identify products that are eligible to go through the comprehensive performance and quality testing.
Perform tests on product sample(s) as defined in the final test method per tasks 1.1 above (to be referred to as the Global LEAP Electric Pressure Cooker Test Method).
Record all test results in the test report template and provide brief, succinct descriptions of any relevant observations.
Submit test results to CLASP within five (5) business days of test completion.
Document and communicate any difficulties with the Global LEAP test methods experienced during product testing to CLASP.
Develop a memo with recommended improvements to the test method that would enhance clarity, quality, and/or lower costs.
Respond to any inquiries that CLASP may have about testing, including requests for periodic updates about the testing queue and any issues that may arise during testing.
Timeline
Consultative work to finalize the test method will begin immediately and conclude as soon as possible.
Testing will commence as soon as the contract is signed and continue throughout 2020.The exact testing start date will be coordinated with the contracted test laboratory or team after contract execution – with a target of end of Q1 / early Q2.
Submittal
Step 1: Preparation for quotes
Companies and organizations that wish to respond to this RFP are strongly encouraged to schedule a consultation call with CLASP to understand project scope and expectations before submitting the RFP. Please send the scheduling request to Mike Spiak at mspiak@clasp.ngo as soon as possible.
Companies and organizations that wish to respond to this RFP must complete the LEIA prequalification questionnaire. This is a requirement for all sub-recipients of UK aid funding. Companies must also register as a CLASP Implementing Partner. Registration is easy, and must be completed via the CLASP website before final submittal.
Step 2: Proposal Submission
Applicants are also required to submit one file with required information as listed below. The file should be named as per the following example: "Organization Name: RFP 16-19"
The quotation for electric pressure cooker testing must include the following elements:
Test laboratory profile, including relevant accreditation and a summary of any experience testing electric pressure cookers or similar products (and the test methods used).
A summary of regional presence, especially in Africa and Asia (if applicable), and related experiences of conducting testing for electric pressure cookers or other electric appliances (grid-connected or solar) or cookstoves.
A summary of qualifications of key personnel that will be engaged in the assignment, along with a description of each person's role.
Detailed cost estimate and timeline for consultative activities that support the finalization of the proposed test methods.
Detailed cost estimate (in US Dollars) outlining testing cost and duration for one sample and ten samples respectively, as specified in the following table. Include a list of required equipment (unowned and owned) and their costs. See Annex 2 for more details on draft test method. Excel versions of the tables are available here.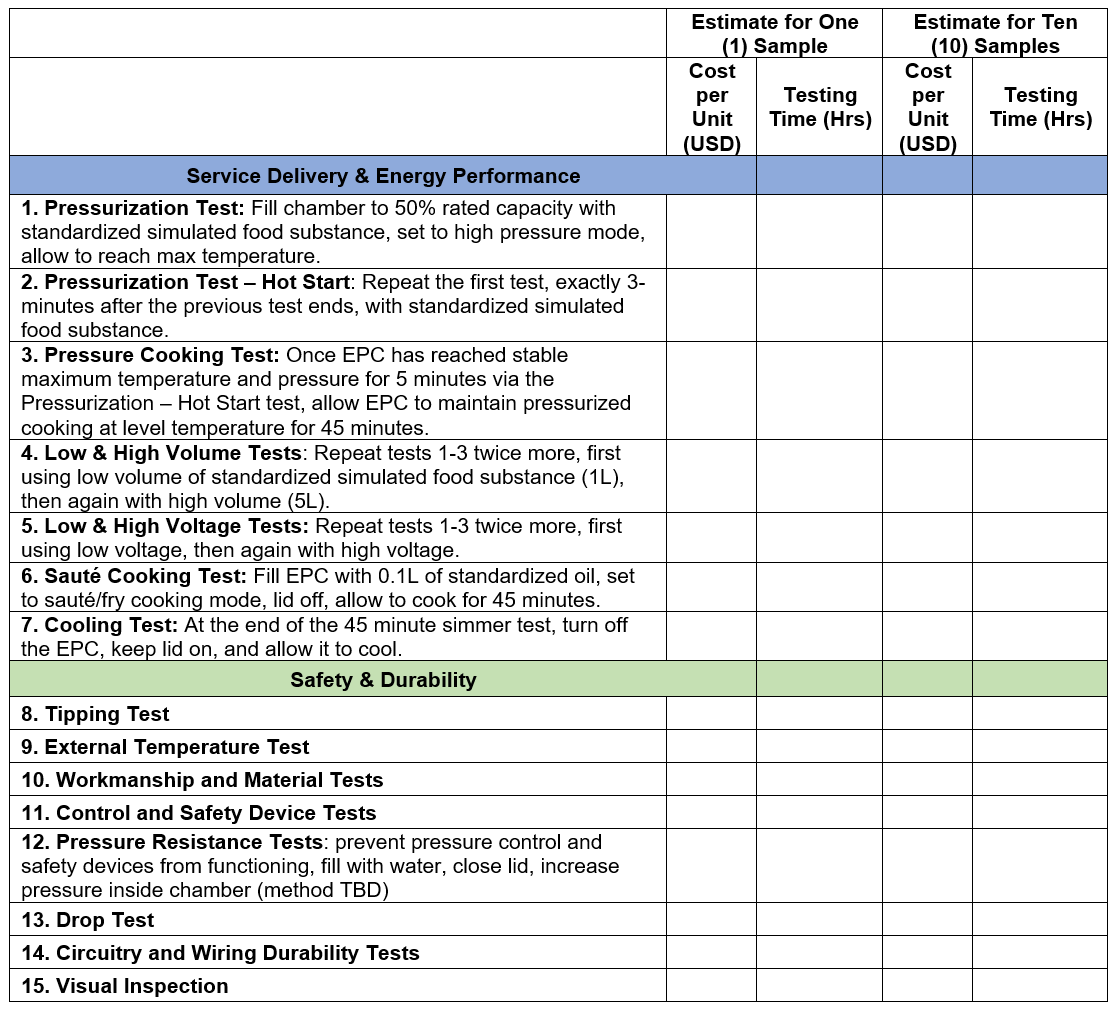 The deadline for submitting a proposal is February 7, 2020. Proposals must be submitted online via the CLASP website using the "Submit Bid" button above and filling out all the requested information. Late or incomplete quotations or quotations submitted directly to anyone at CLASP will not be accepted.
All questions may be addressed to Mike Spiak at mspiak@clasp.ngo. We request all inquiries be made by email and not by phone.
Information for Potential Applicants
Confidentiality Statement
All data and information received from test laboratories or other entities for the purpose of this assignment are to be treated confidentially and are only to be used in connection with the execution of this assignment. All intellectual property rights arising from the execution of this assignment are assigned to MECS, LEIA program donors, and their designees. The contents of data sets or written materials obtained and used in this assignment may not be reused or disclosed to any third parties without the expressed advance written authorization of LEIA and MECS designees.
ANNEX 1: Draft Evaluation Criteria for Electric Pressure Cookers
| | |
| --- | --- |
| Metric | Description |
| Energy efficiency | Efficiency of converting electrical energy into heat and pressure in cooking water and chamber |
| Safety | Safety of operating the product |
| Durability | Durability of the product |
| Cooking speed (service delivery) | Time to cook and max temperature factor |
| Cooking quality (service delivery) | Consistency of temperature over time and area |
| Warranty and manuals | Quality and relevance of documents and content |
| Target market design and innovation | Design features intended to make a product more accessible or effective for off-grid customers |
| Affordability | FOB price of the product. |
ANNEX 2: Draft Electric Pressure Cookers Test Method, Conditions, and Parameters/Metrics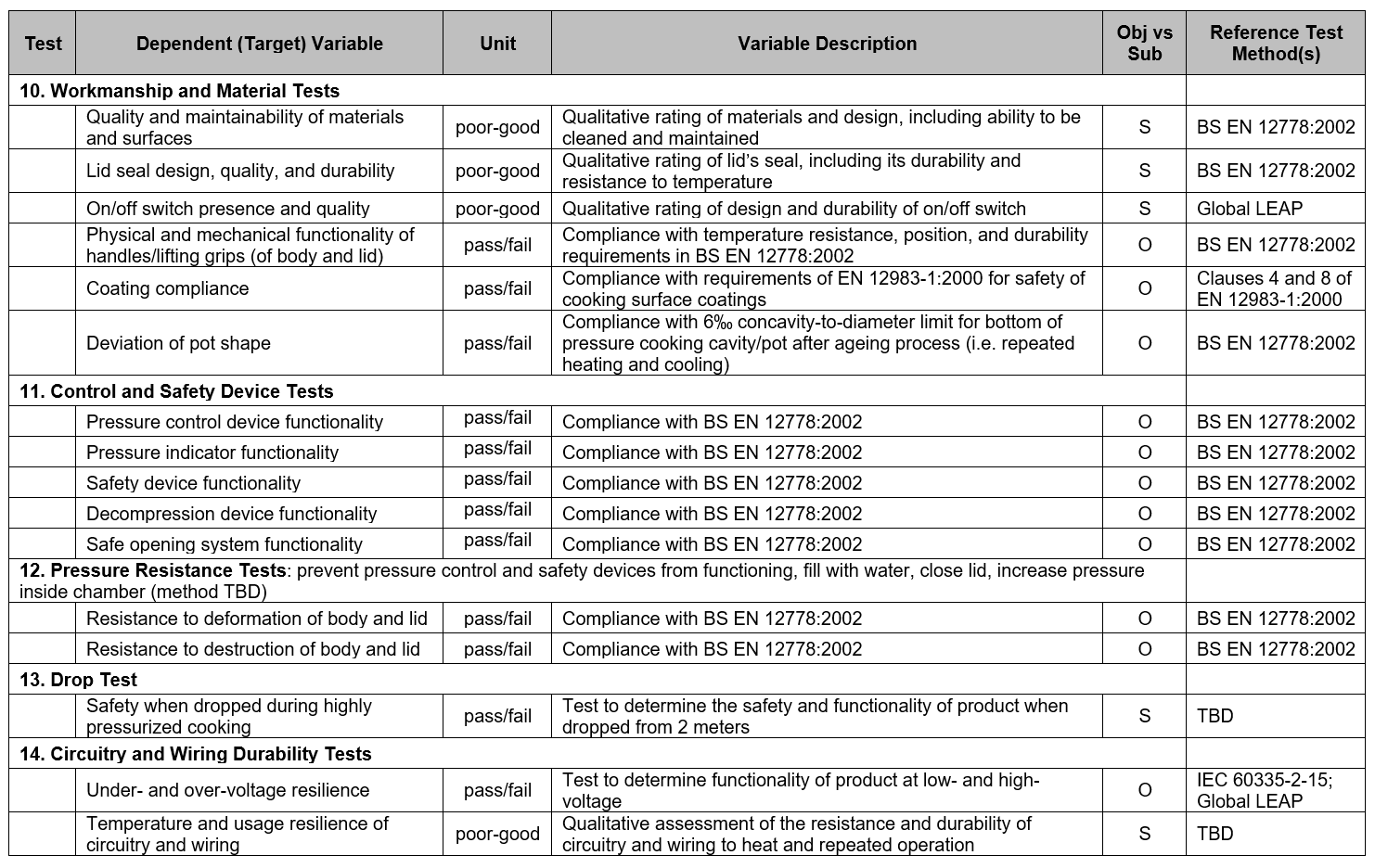 ---