Growth, Diversity, and Innovation Guide CLASP into the Next Decade
In celebration of CLASP's 20th anniversary, each month we profile one of our team members. This month we close out the year with Fred Sherman, Chief Operations Officer.
In celebration of CLASP's 20th anniversary, each month we profile one of our team members. This month we close out the year with Fred Sherman, Chief Operations Officer.
Overall, 2019 has been a great year for our organization and the important work we do around the globe. We've seen tremendous growth in several of our exciting programs and continue to add to our diverse and geographically dispersed team, as well as improving the way we support and safeguard that team.
This year we've invested heavily in our staff and organization. We added nine new team members, which is an increase of 20%. We are always looking to improve our processes and the team has been flexible and open to change, which makes for an exciting and dynamic workspace.
In particular, we made many improvements to offerings around team safety and support. For example, our whole team spent two days offsite in Hostile Environment Awareness Training (HEAT), learning skills necessary to safeguard ourselves in a plethora of situations, including active shooter, kidnapping and checkpoint best practices. It was intense, but everyone was glad to have attended. Additionally, we recently implemented a new travel insurance policy, as well as digital security tools to safeguard against digital threats while traveling.
Diversity
The operations team is a good reflection of the organization with every person on our five-member team born in a different country. This diversity is key to our continued success and adds to the strength of the team. With our work touching 70+ countries and staff in five locations, it's important to remember how critical cultural differences are to the positive impact we have.
Innovation
I'm fortunate to have a supportive team, which includes our senior team and CEO. Over the years, I've brought many recommendations that might be considered less conventional and after careful consideration, we usually agree "that seems right for us." Examples include our unlimited time off policy and birthday policy, where we encourage team members to take the day and do something out of the ordinary. Interestingly, data show that most organizations that adopt an unlimited time-off policy find that people won't take the time off. At CLASP, we monitor to ensure team members are taking time off. If they aren't, you can be sure they'll receive a note encouraging them to get a vacation on the calendar. We know how hard everyone is working and that it's important to disconnect, spend time with friends and family, and recharge.
A Culture of Support
I've worked at several other nonprofits during my career, many in crisis, so I can say with first-hand knowledge that it is much more gratifying and fun to be part of a well-run organization – one that doesn't hesitate to invest in the systems and human capital required to ensure its success.
At CLASP we take our culture seriously. It starts at the top and is carefully cultivated. The pillars are collaboration, transparency and service. How we enact these values continues to evolve over time and like a fine wine, only gets better.
Thanks to all our friends around the world who partner with us and help us to keep growing.
Happy New Year from CLASP!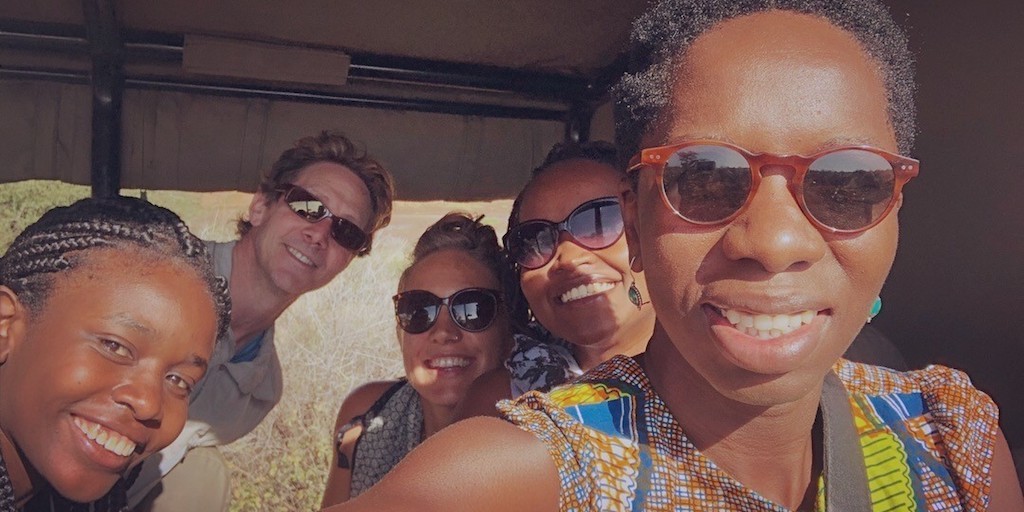 Fred with team members Ruth Kimani, Corinne Schneider, Makena Ireri and Nya Abagi visiting people with Global LEAP Award winning off-grid solar TVs in their homes in Samburu County, Kenya.
---